NH Environmental Champions
2019 Award Winners
The Aquarion Water Company recently presented its Aquarion Environmental Champion Awards during a ceremony held at the Victoria Inn in Hampton. The awards, now in its sixth year, celebrates the dedication and hard work of individuals, organizations and businesses that help protect, conserve, restore New Hampshire seacoast's natural resources.
Congratulations to our 2019 winners!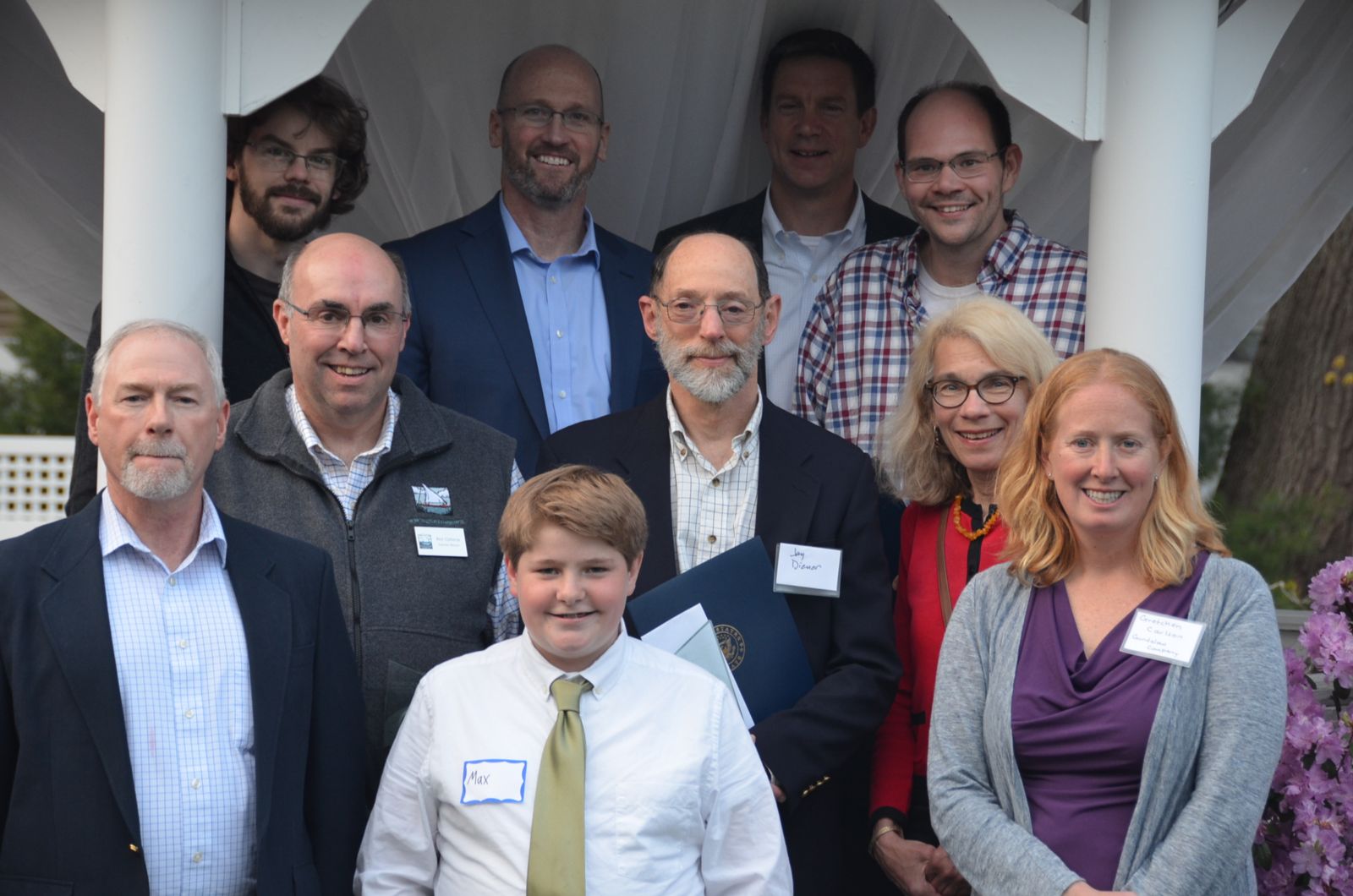 Front Row:

Carl, Max Ronner-Bland (student at Hampton Academy), Gretchen Carlson (Gundalow Company, Portsmouth)
Second Row:

Rich Clyborne (Gundalow Company, Portsmouth), Jay Diener (Chair of the Hampton Conservation Commission), Barbara Benn (Gundalow Company, Portsmouth)
Third Row: Andy Goodell (Gundalow Company, Portsmouth), Johan W., Rich Luff (President of Sagamore Golf), Jay O'Brien (Green Maids, Portsmouth)
---
Non-profit Category – Gundalow Company
The nonprofit Gundalow Company's mission is "to protect the Piscataqua Region's maritime heritage and environment through education and action." They operate the gundalow Piscataqua, which does public sails, school programs and camps. Through a series of hands-on activities, students get a glimpse of the past 300 years on the working waterfront, and explore issues like water quality, habitat protection, stewardship, navigation. The Gundalow Company also offers a great Science Cafe series each winter featuring local scientists and environmentalists. The Gundalow Company works with many partner organizations, including Blue Ocean Society, on initiatives to increase environmental awareness in the region.
---
Adult Category – Jay Diener – Hampton, NH
Jay Diener has been a long time advocate and steward for preserving and protecting nature along the Seacoast. In addition to his work with the Great Bay Stewards (for over 10 years, including serving as President of the Board of Trustees) and his work forming the Seabrook-Hamptons Estuary Alliance in 2013, he has been a member of the Hampton Conservation Commission since 2004 and currently serves as Chair.
---
Business Category – Green Maids
Green Maids was founded in 2009. They are a residential and commercial green cleaning company that services southern Maine and the New Hampshire seacoast. Green Maids' goal is to provide a superior clean and excellent customer service while using the most eco-friendly products and methods. All the products they use are guaranteed to be all-natural, biodegradable, earth friendly, non-toxic and safe for your home. In addition, Green Maids supports local organizations such as Blue Ocean Society and the Seacoast Science Center. They not only make financial donations, but donate significant time - for example, the owner John O'Brien will not only donate to sponsor beach of cleanups, but will show up, gloves in hand, with his employees, ready to help clean the beach.